Back up-to-date now;) Monday I start school, so there may be a few days I will do things like this. I know. I'm sorry, I will do my best to do 1 a day though, even if I add faves & details later;)
Anyhow, my post for today is a "steaming" building. This photo was also taken in Hartford on 8/18. What do you suppose it is??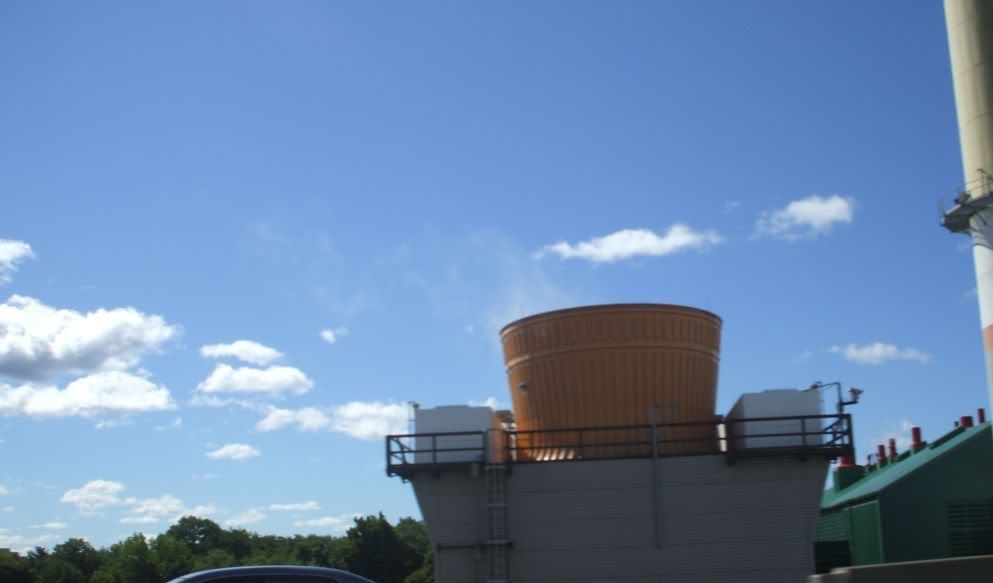 This building is (we believe I can't remember for sure - and since I only got this part of the bldg - it's hard to say - I searched online & couldn't find it yet) a part of the Tilcon plant there - they are a cement plant type thing - my husband says he thinks this orange-thingy (LOL - my phrasing;) is one of the evaporators.
My Faves for today include:
US:
Other Countries:
Budapest Daily Photo - Very interesting festival "sign"
Photos from Haninge - Great Engines!
Hyde Daily Photos - This is a nice tower! There is a link to last's year's full photo of the building as well!
Katowice Photo Blog - a fabulously beautiful sunset over the Baltic Sea!
Kuala Lumpur Daily Photo - a fabulous photo of school chilren in "costume" in a community theater piece! Beautiful!
Malta Daily Photo - a very beautiful sunset;)
Manila - beautiful sky!
Menton Daily Photo - an Italian view of Menton!
Monte Carlo Daily Photo - CONGRATS on your 200th post!! Beautiful sculpture & casino!
Mumbai Daily Photo - beautiful colors - interesting photo;)
Port Vila Today - I want to be in her spot! LOL
Singapore Daily Photo - another fabulous shot of the fireworks;)
Stavanger Daily Photo - love this house! I would like to live in the unusual "corner" home;)