My post for Saturday comes pretty early! This is because I will be gone all day Saturday, late into the nite, possibly early Sun am! We are heading to OZZfest in a few hours, in Hartford CT! :)
My post for today, is another scenic photo from our drive last week to upstate NY. The contrast is something, isn't it??? Funny how I got so many different weather scenes in 1 trip:)
This photo was taken at 1:09 in the afternoon, though, on our way back home. NY truly has some beautiful landscapes, all varieties - big city, small city, town, countryside, farms, etc. Lots of mountainous terrain though, too:)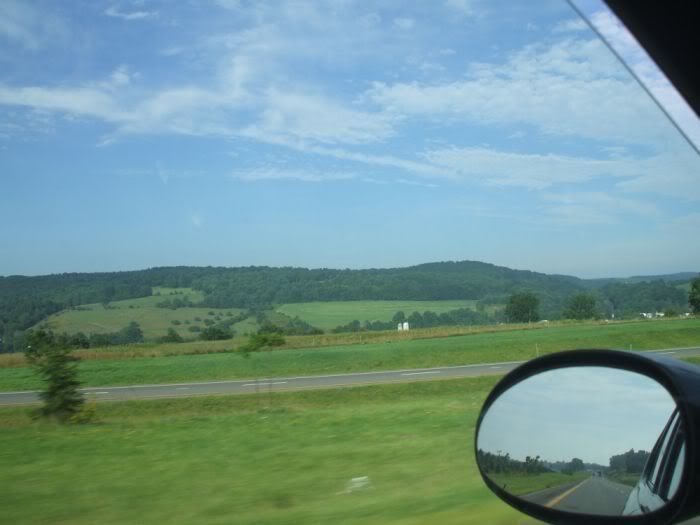 My Faves for Saturday will be added on Sun, sometime. Maybe Mon.
Ok! Here are my Fave's for Sat:
US:
Bostonscapes
- love the sky! It is gorgeous;) Ok, well it WOULD be nice to have a boat like
that too! LOL
Brookville Daily Photo - a house finch! These are so cute & tiny! We had a pair of finches make a nest in the top of our propane tank! They hatched 7 babies, only 1 fell from the nest & died (I didn't find it in time;( & the other 6 lived to at the very least, fledge their nest!
Chandler, AZ Daily Photo - this is a hillside that had a fire. Sad, but at the same time, will bring new life to the hillside.
Delta Daily Photo - Interesting photo! Interesting statement too. . . Much truth.
Flying - Ruth posted a great view of a hillside scene in Killarney National Park County Kerry Ireland!
Minneapolis Daily Photo - a Beautiful flower! Even more beautiful is the memorial for some who died in the collapsed bridge tragedy.
Nashville Daily Photo - I like this photo. Although, I am not at all political or anything, I love the site;)
New Orleans Daily Photo - great blue shutters! I love them!
Selma, Al. Daily Photo - I love this front porch! I would love to sit out there, having tea & watch the people going by.
Other Countries:
Akita Daily Photo - i really enjoyed viewing this coast guard ship.
Buenos Aires Daily - I love this beautiful building too! What interesting & beautiful work!
La Antigua Guatemala Daily Photo - I like the "puzzle" below the drink - and see? There is a heart in the cup:)
Mainz Daily Photo - Very interesting post on Sage! I think I will try the meal outlined sometime too!
Malta Daily Photo - very beautiful harbor!
Stavanger Daily Photo - I LOVE how the sky looks behind these buildings;)
Tenerife Daily Photo - I found this photo interesting & liked the details provided! It is interesting to learn how other countries see/use foods.
Wroclaw (Poland) - What a fabulous view of the building!!
Others:
Faye's Photos - What a great view! I love it;)
National Geographic Photo of the Day - I like this photo! I love how the stars are in the sky! Look like they are zooming!